In March, right before the lockdown started, we were contacted by CRED for a series of Ad shoots for their performance marketing campaign.
The email stated that a total of eight different ad films are to be produced and they wanted us to streamline the pre-production and go to shoot at a day's notice.
We knew the real challenge that we would face throughout the project was the time constraints that they had put on us. It was nearly impossible to shoot an entire ad film in such a time frame.
But, We took it as a challenge and immediately started working on the project because we believed that we have the power to rise above any situation and deliver the best results no matter what the circumstances were.
So, here is a sneak peek at how we pulled off this challenge of shooting 8 different ad films on a single day!
Concept and Script:
Usually, a shoot like this would take a couple of weeks to study and work on, which involves everything right from scripting & storyboarding to selecting the backgrounds, lights, camera, the framing style, basically everything you can possibly think off.
Luckily, in this case, Cred had a clear idea of how they wanted their performance ads to look like and they shared a brief concept with us.
After a little negotiation, We collaboratively came up with 2 different types of Ad formats.
Here is a brief rundown of those:
The first few ad films involved shooting cinematic slow-mo shots of highly fragile and lavish artefacts shattering into pieces.
What was the idea behind the format, you ask?
"Being late is not fashionable", Pay your credit card bills on time!
The second set of ad films involved taking cinematic slow-mo shots of lip-smacking delicacies like Strawberries with chocolate syrup, French fries and melted cheese and a couple of other satisfactory desserts.
We had an on-set food stylist who worked closely with our art directors to coordinate amazing shots by uplifting the overall visual aesthetic of our food.
The idea behind the format:
Some things are just rewarding, just like paying your credit card bills.
Execution:
Since we only had a day in hand for the pre-production, the challenge on the set was to get everything done on time.
Right from setting up the studio with painted floors, lighting, camera, pleasing bright colour backgrounds to creating the storyboards.
The challenge for us here was to find props that would look appealing on the screen, at the same time, fit in our budget.
After a detailed discussion with the client, we finalised 4 props for the shoot which included a ceramic statue, a jar filled with juice, a slick champagne bottle and a flower vase.
Shooting:
The shooting was the most fun as well as challenging stage of the project.
Once we finalised the entire concept, the storyboard, visualization and every other aspect of pre-production it was time to shoot.
We opted to shoot the entire ad campaign on RED Gemini 5k and paired it with ZEISS Ultra Primes.
This was our first time shooting an advertising film in slow motion, at a higher frame rate (240fps and 300fps).
Soon after we started shooting, we ran into some issues with the camera, but with the help of the team, we somehow found a workaround to it.
The entire shoot was captured with two different RED Gemini 5K camera's since we wanted a few close-up shots in the video to make it more appealing.
Post-Production:
The deliverables for the project included a total of 40 unique exports (different aspect ratios) for various social platforms.
Since the whole country was put under lockdown the very next day, the post-production was efficiently done remotely and the deliverables were ready in less than a week's time.
Uffff, What an experience this was! A roller coaster ride for sure.
We are extremely thankful for this opportunity.
This, of course, wouldn't have been possible without the teamwork.
The way we have handled this project just shows the resilience, experience, knowledge and critical thinking that we as a team possess.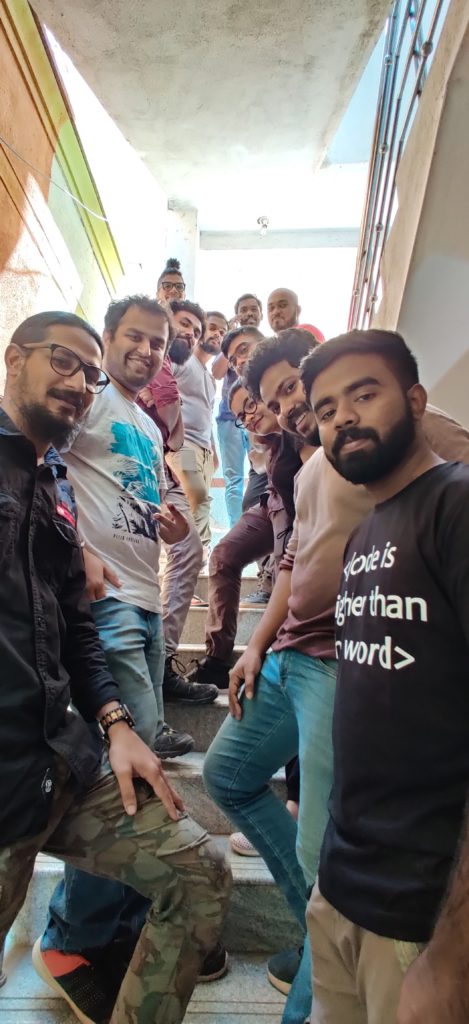 With this, we truly believe, we have the power to rise above any situation and deliver the best results no matter the circumstances.
The level of quality work remains unprecedented in our organization. Kudos to each and everyone who was involved.
If you'd like us to help you create videos at speed and scale for your brand, you could Start Your Project right away or say hello@guch.me
Ready? Get, Set, guch!
Credits:
Created by – guch
Director – Joiet Joseph
Cinematographers – Anu Ramachandran & Arfan Abdulazeez
Producer – Pranav Chimulkar
Editor – Abdul Razick
Assistant Director – Nimal Kannan
Creative Consultant – Shiva kumar
Art Direction – Soorej, Sujan
Sound Engineer – Rogin Cheriyan
Music – Mukund Ambarish Manivannan
Mastering – Pranab Rath
Production Assistant – Apurva Sinha, Pramod
Executive Producer – Jijo Idicula
Line Producer – Irshad Saifudheen
‍