‍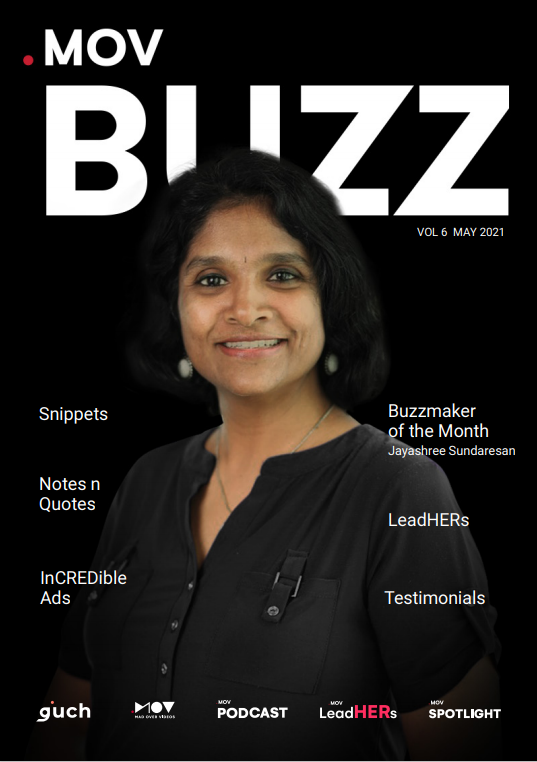 ‍
‍
‍
Notes n Quotes
‍
‍
What testimonials drive for you is greater empathy because when the recipient sees the video, he/she can put themselves in the protagonists' shoes which is really important and brings a lot of trust into the brand.
– Vedanarayanan Vedantham
Razorpay – SME & Startup Business Head
‍
‍
‍
‍
‍
‍
‍
‍
It (ad content) purely depends on what the brand stands for, what they need to sell we're not selling a product or a service today, we're selling a story. And when we sell a story – the content, then we've hooked on to the customer.
– Girish H
Vice President, Quess Corp – Marketing & Communications
‍
‍
‍
‍
‍
It is easier to tell an emotional story with video, with visuals, with the people who are involved – it gives things a human touch. It takes much more work than any text-based work, but the impact is always much bigger.
‍
‍
‍
‍
‍
‍
Snippets
‍
‍
Razorpay's Vedanarayanan talked to MOV about understanding your business' video needs through analyzing user data. He says, "It comes down to the (business) category you are part of. If you're part of a category where user behavior is not quite set in – the behavior doesn't come naturally to users – then testimonials are better." He discusses the case of payment gateways around 6 to 7 years ago. "Signing up for payment gateways wasn't very normal behavior", he explains. In such a scenario, there is a) information deficit and b) trust deficit among users. A product explainer video in this situation would only cover half the gap. On the other hand, a testimonial video is your best solution to cover these deficits effectively.
‍
Determining which factor among information or trust you as a brand need to build on is the first step towards understanding what type of video assets your business requires.
‍
‍
‍
‍
‍
‍
Kirti Sharma, a Senior Product Marketing Manager explains the world of Product Marketing and the promising career opportunities it offers. But first, what is Product Marketing?
‍
Product Marketing represents the voice of the customer where product knowledge and user needs meet. Product Marketers then, are the user's advocate who can drive the product's value and encourage product adoption.
‍
Kirti explains that a Product Marketer works towards elevating the team's work. According to her, "A product marketer lends expertise and the customer's voice into play. This aids your team with establishing the unique positioning your product needs." Kirti lists curiosity, a flair for words, attention to detail and the ability to draw out a long-term plan essential to becoming a Product Marketer.
‍
What are your thoughts? Is Product Marketing your calling?
‍
‍
‍
‍
‍
‍
‍
‍
‍
After their Not everyone gets it ad series in 2020, CRED came back with a bang with the most viral ad India has seen in 2021. With Rahul Dravid – India's soft-spoken sweetheart it's center going absolutely ballistic in Bangalore traffic. The ad was packed with humor and prime meme-material ensuring it went viral and setting itself as a new pop-culture reference.
‍
Its virality had other brands piggy-backing off its popularity – like Zomato's instant witty response on twitter, Magicpin's parody ad and our very own co-founder's meme that added to a ton of material on the internet.
‍
The response material merely pays witness to the ad's success. Although the ad mainly saw positive responses its bizarre or non-traditional approach of their ads raised a small percentage of critiques across social media platforms wondering how such an ad would ever convert to revenue. So, let's have the numbers do the talking.
‍
CRED partnered up with IPL in 2020 for the first time as an official sponsor. The young fintech brand made use of clever strategies, including targeting the HD IPL match feed to promote the brand. Their Not everyone gets it ad series launched around this time too. In 2020, CRED's Google popularity score grew up 4 times during the IPL period alone. While this displays the recall CRED has established, they weren't far behind in customer acquisition either. CRED managed to engage their audience through a blend of TVCs and social media content. As a result, CRED's downloads increased by over 8 times along with a significant increase in active users.
‍
CRED's ad series prolong the joke and the ad concept while keeping it fresh by bringing in different celebrities to fit in the same format. Like the Not everyone gets it series, the Rahul Dravid ad was the first of three Great for the good ads.
‍
The other two involved legendary singer Kumar Sanu as an insurance salesman, Jackie Shroff loving Zumba and your favorite 90s cricket stars in an NSYNC video. But hey, it's safe to say we've got Indirangar ka gunda dominating them all!
‍
‍
‍
‍
‍
Buzzmaker of the Month
‍
Global Protections Services Leader
PayPal India
‍
‍
If there are words to describe Jayashree Sundaresan apart from the all-encompassing job titles she's had, it's leader. This May, she joins us at Mad Over Videos as both a LeadHers and as the Buzzmaker of the Month! With over 22 years of experience in the tech industry, Jayashree looks at every chance as an opportunity to make a positive impact. She shares her outlook and experiences with MOV this edition.
‍
You're celebrating over 15 years as a tech leader. What excites you about leading a team professionally?
It is the opportunity to transform people beyond who they think they are and what they think they can achieve.
‍
Your passion about women empowerment and your work at Unity is inspiring. What do you recommend smaller companies and startups can incorporate to contribute to this?
Gender diversity focus is not just about hiring women or for women to feel supported, but companies should realize that their employee base should be a reflection of their customer base to bring diversity in thought, ideas and leadership. Every company right from get go, should focus on enabling a culture and environment of diversity and inclusion intentionally. Creating forums and groups for women to feel safe, heard and supported go a long way.
What is a lesson you've learnt from your experience in people management?
The biggest lesson I have learnt is to offer vulnerability based trust. As a leader, when you make yourself vulnerable and real, rather than sitting on an ivory tower, you open up unimagined windows & doors to connect to the human spirit in each of us, and that is just pure magic to elevate both thinking and action.
‍
In a fast paced work environment like yours how do you keep your employees from burnout?
Our state of mind, mental wellness, satisfaction, happiness all of it actually is tied to what we do with our time. So, every once in a while, we need to mindfully take a step back – reflect on if we're happy doing what we're doing.
It could be your job, it could be your team, it could be your boss, it could be your hobbies, it could be the time you spend in the kitchen, it could be the time you spend with your family & friends. The key here is to always anchor yourself around what brings you joy. Find that joy in every simple thing you do – do things that give you happiness, be with people who give you positivity, do work that gives you satisfaction, spend time with people who help you learn & grow. And when you find yourself in situations where you don't find that joy & happiness, reflect on why, go look for it, find ways to get a different place, change ways you spend your time, challenge yourself to try some different things, you would have reinvented a new YOU. So, to prevent burnout, I highly recommend reinventing yourself from time to time.
What makes you Mad Over Videos?
‍
My friends might say you couldn't have asked this question to a better person – my current iPhone is just a year old and I have 15000 pictures and nearly 3000 videos in it. So, I am truly mad over capturing life's special moments. After every trip or a memorable event, I have the habit of creating keep-sake videos that tell a story – all with apt captions, background music, special effects and the entire likes of it. I consider it both an effective mechanism for storage issues, but more so because of how beautifully videos tell a story, transport you to a different world – the memories & the emotions it evokes is very special.
On the professional side, we use videos to tell stories of our teams' empowerment or CSR activities or events we conduct. One thing to note is there are 3 types of learners – auditory, visual and kinesthetic and each of us process data & information very differently. I think videos cater to all 3 types of learners – there is audio for auditory learners, visuals/info-graphics for visual learners and then the whole story telling for kinesthetic learners. It's a very powerful & impactful form of communication. With so many tools available to us now than say a decade ago, I think it's up to each one of us to tell powerful stories using the medium of videos.
‍
‍
‍
‍
‍
Katheriin Liibert of Outfunnel joins us on the seventh episode of MOV LeadHERs to discuss about her journey, perspectives and experiences working with women leaders all over the world, the wage disparity that women face in the workplace, and much more, with our host Scindia Balasingh.
‍
‍
‍
‍
‍
‍
‍
‍
‍
‍
Kirti Sharma of Freshworks joins us on the eighth episode of MOV LeadHERs to discuss about her journey, insights and experiences working in the field of product marketing, as well as how companies and leaders can make workplaces more conducive for women, and much more, with our host Scindia Balasingh.
‍
‍
‍
‍
‍
‍
‍
‍
‍
‍
Testimonials
‍
‍
"I feel that it's very important to connect as a community, as a tribe of like-minded people who are doing similar things to get inspired by each other to exchange ideas, best practices. I recommend my peers to be part of this community – Mad Over Video. In this community, there's both magic and madness!"

Archana Tiwari Nayudu
‍
Director – Content & Communications
upGrad